Groups
THE MORE THE MERRIER!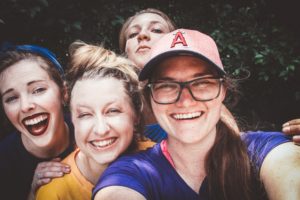 Draggo loves groups. In the end all of us know that the more the merrier, especially when you want to have a good time in a foreign city. Travelling as a group can be the best kind of a trip and Kraków with Draggo offer unique experiences for you and your friends to share in together. All collectives, clubs and school classes are always welcome and are right at home with Draggo House.
You will be met with a friendly smile, an aim to please and a need to impress from our helpful staff.Still, with so many things to think about, the prospect of organising a group trip can be sometimes daunting. This is why we make group schedule organization as easy for you as possible. We can not only accommodate you but we can also help with creating sightseeing program and make museum and restaurant reservations for your group. We can even arrange group transfers. Just let us know that you need some planning help and we will gladly assist you. Our staff will also inform you about what's currently going on in Kraków and advice cool places nearby.
Draggo House isn't like any other place. That's because we combine affordable luxury rooms with unique social events for the travellers and on site facilities such as a pub, a restaurant and a summer garden with BBQ space.
In Draggo groups are accommodated according to their wishes in SGL, DBL or shared rooms. The private bathrooms are a standard so that, there is no scrambling for the bathroom in the mornings.
The benefits of group bookings:
best rates guaranteed
dedicated booking coordinator
pre booked museum entrances before your group arrival
group meals reservations with special care of food allergies
transportation assistance
Are you travelling with a group of 10 people or more? Make your group booking easy and let us do the work for you. We have special rates, a team of group booking experts to help take the weight off your shoulders, and a range of tailored group services designed to make your life easier. Our dedicated group bookings team will offer you options for Draggo House accommodation and top services. Contact us now!