Are you are in Krakow and want to have a good time? Just visit Mr. Vavelsky Pub Krakow Karaoke Bar very close to You and find a lot of unforgettable experiences there. Starting from the evenings with live music to quizzes from many thematic areas. Try your hand at the microphone every day in week. Visit us today!
Where?
Vavelsky Pub is a place that is hard to miss on the map of Krakow. It is located in the same place as Hostel Draggo. This new pub is based on spacious undergrounds of a medieval tenement house with many hidden rooms. They can attract you with their atmosphere and mystery. For the hostel guests and other visitors to the pub, there is also a garden is available in summer, located in the yard of the house. All of this attractions you will find less than 3 minutes from the Main Square – the vibrant heart of Krakow, which is visited by several million tourists every year. If you are a guest of our hostel, you can spend the evenings in a nice way without leaving your home. Guests from outside are also welcome. We invite you to Vavelsky Krakow Karaoke Bar at Gołębia 6 today https://vavelsky.pl .

Karaoke bar Krakow – the one and only such in the city
The biggest attraction of this new but already popular place is an evening karaoke. The name of our cyclical event may surprise you. Why the "Dragon Karaoke"? For a long centuries, Krakow has been associated with the figure of the Wawel Dragon, one of its statues has permanently entered to our walls. Some say it's a legendary creature defeated centuries ago by a brave shoemaker. However, if you visit our place, you'll see that sometimes it comes alive and becomes the driving force of fun. Everyone who wants to try their hand at the stage will have this mythical ally right above their head. You will quickly get rid of the stage fright and will be able to entertain with your voice the other participants of the evening party. Our karaoke scene is perfectly prepared and sounded by a professional DJ. He has large music collections in which he will quickly find any kind of music that you want to sing. We invite everyone, because (as in the hilarious song) "everyone can sing". Here you will discover your talent and maybe you will become the star of the next karaoke editions or even maybe it will be a prelude to your future career on the stage. As hostel guests, you can quickly join the party and find yourself in the very center of the event. You will spend an unforgettable evening in the company of Elvis Presley, Abba, classic disco, rock music and modern rhythms.
Other options
oke is just one of many possibilities offered by Vavelsky. From Monday to Sunday cyclical and single events take place here, among which you will find concerts with live music, discos with DJs, stand-ups and theater performances. Invited guests perform on the basement stage or in the summer in the courtyard next to the Draggo Hostel and Vavelsky's underground. If you're a fan of humor, then stand-ups will definitely appeal to you. Participation in the disco will be a good idea for active and fun-loving guests. Others who like to spend time more reflectively will find themselves during theatre shows. What's more? You can test your knowledge in many areas during quizzes. Every Tuesday we have PubQuiz, where we test your general knowledge. In addition, we also have themed quizzes about Netflix, series, movies including the popular ones, like: The Witcher, Game of Thrones and Star Wars. That's not all. We also have here a magical fireshows combined with vodka tasting, party and card games, speed dating, and discussions on the problems, which concern scientist of the modern world. Other guests will find a great place to support their favorite teams and athletes from the world of football, basketball, speedway, hockey and many more during sporting events. Join us and watch sporting shows among colleagues, friends or family. If you will vist Vavelsky Pub you can be sure that you'll find here kind and very helpful service. Thanks to our staff, you can taste the new, exotic drinks (including burning ones) and other beverages. In the summer, there is also a garden waiting for you, in which special chefs prepare grilled dishes for our guests.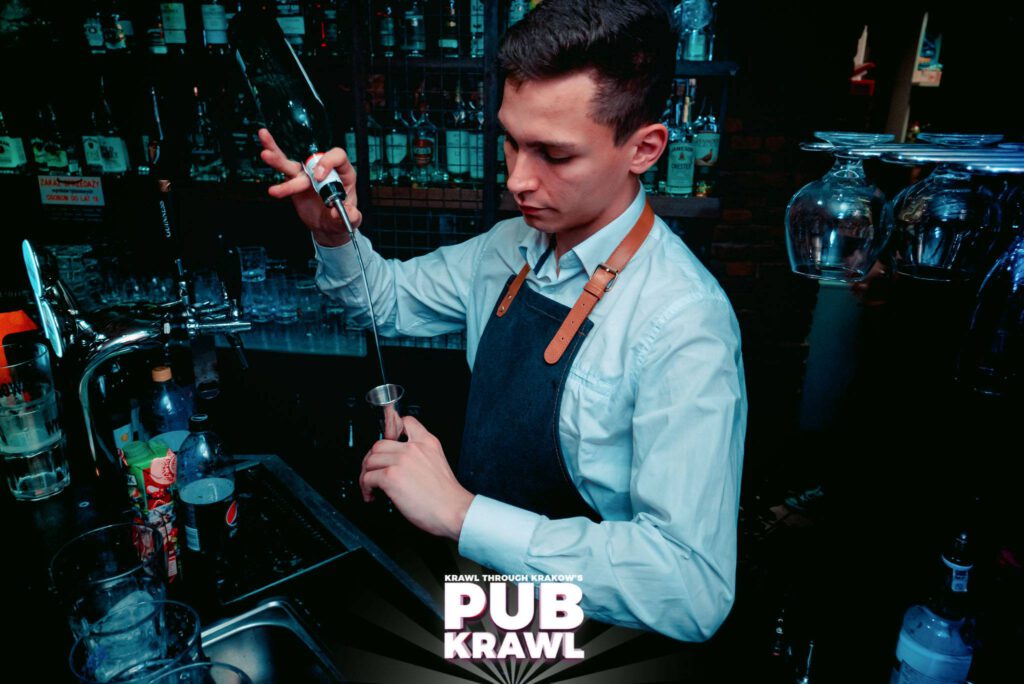 We want to invite all who stay in our hostel to visit the Vavelsky pub. If your friends have stayed somewhere else, invite them too and party together. We promise great fun, professional service and many unforgettable experiences.